In fashion news from around the world this week, Arise Fashion Week is set to hold in December with a total of $500,000 in cash prizes, Hermès launches its first digital store in Saudi Arabia and many more.
Arise Fashion Week 2020 Set to Hold in December with a Total Cash Prize of $500,000
One of the biggest fashion weeks in Africa, Arise Fashion Week, is set to showcase 30 under 30 designers in December.
According to a statement released by the organisers of the event, the fashion week is set to hold from the 5th to the 12th of December 2020 in Lagos, Nigeria, however, it will be streamed globally.
The next generation of designers – The New Stars – are expected to showcase the best and brightest of fashion and style as they compete for a total of $500,000 in prize money. The winner will be awarded a sum of $300,000 while the first and second runners up will receive a total of $150,000 and $50,000 respectively.
Its organisers call for every "self-confident designer, 30 years old, or under the age of 30, and with a great look book" to grab this chance to "conquer the world of fashion, and displace established brands."
Qualified designers can apply at www.arisefashionweek.world. Applications and registrations close at midnight on Saturday, 31st October 2020.
The 30 participants to participate in the fashion week will be chosen by a Selection Committee of global fashion icons and writers.
This Year's Fashion Awards Goes Digital
Due to the Covid-19 pandemic, the British Fashion Council (BFC) has announced that this year's Fashion Awards will be a digital-only event.
The annual event which usually happens in December and draws a large crowd of celebrities is set to hold on Thursday, December 3rd and will "honour and celebrate the designers, brands, creatives and individuals who have created positive change within the fashion industry this year", the BFC announced in a statement.
This year, the awards will focus on those who faced the pandemic head-on, showed leadership and resilience, and stood up in the fight for exclusivity in the fashion industry.
"What the past couple of months have shown us is that the fashion industry is in need of a reset," BFC CEO, Caroline Rush said. "This is why this year, under unique circumstances, we felt that it was important to recognise the people and businesses who played a role in some of the most important and challenging issues of our generation and champion those who raised the bar in areas such as diversity, sustainability, and community."
The award show will honour 20 individuals and brands with a '2020 Fashion Award' for a specific contribution. The winners will be announced as part of a short documentary that will focus on the fashion industry this year. The BFC will also compile the 'New Wave: Creatives' list which highlights up-and-coming fashion talent.
The BFC expressed hopes that the Fashion Awards next year will hold as a physical gathering at the Royal Albert Hall on 29 November 2021.
"The ceremony will be reimagined to reflect the BFC's new mission and with the ambition to have technology and engagement at its heart, looking at innovations for amplification and new experiences," the BFC explained.
Wendy Yu Launches a New Prize for Designers in China
This week, Wendy Yu, the investor, philanthropist, and founder of the 'Wendy Yu Curator in Charge of the Costume Institute' at the Metropolitan Museum of Art, announced the launch of the Yu Prize.
The Yu Prize which is a new program to "scout, promote, and support rising talents in China" aims to support designers locally and boost their international visibility. With it, she also hopes to support the country's growing fashion industry.
"It's a very exciting time for Chinese fashion," Yu said in a statement. "We are seeing many talents emerge with greater sophistication and confidence in their design and manufacturing capabilities. However, there is still little support and structure in the industry, [both] for those who have the potential to break through internationally and succeed domestically. We do not have an official body dedicated to the development of young designers, such as the Fédération de la Haute Couture et de la Mode or the Council of Fashion Designers of America," she explains.
"I felt passionate about creating our own platform that would align with Yu Holdings's mission to 'cultivate creativity' and incubate and accelerate our rising stars. As consumers in China are increasingly interested in shopping local brands, this makes the opportunity all the more promising," she adds.
Yu and her jury are specifically looking for designers who see fashion in the context of the world's most pressing issues – climate change.
"Fashion today has a wider role and responsibility, and this is something we want to capture through the prize," Yu says. "We are not just looking for designers; we are looking for creators and culture shapers with a strong point of view and impact beyond apparel. We will be assessing this when reviewing the applications and will go on to task the finalists with a creative assignment, which will help demonstrate to us how versatile they are in cross-pollinating their vision, designs, and commercial acumen outside of their collections."
The jury includes Giambattista Valli, Andrew Bolton, Diane von Furstenberg, Labelhood's Tasha Liu, Fédération de la Haute Couture et de la Mode's Pascal Morand, Shanghai Fashion Week's Madame Lu, and Vogue's Chioma Nnadi, among others. The winner who will be announced at the Shanghai Fashion Week in March 2021 will recurve a cash prize of 125,00 euros; a showcase at the Spbere Showroom at Paris Fashion Wek in October and an event co-hosted by the FHCM; a slot on the Shanghai Fashion Week scheduled for October 2021; a year of mentoring from industry experts, with a special focus on sustainability; and guidance by the Yu Holdings team in the form of consulting, resource allocation, and financial investments.
Hyundai Kick Starts Sale of Sustainable Fashion Collection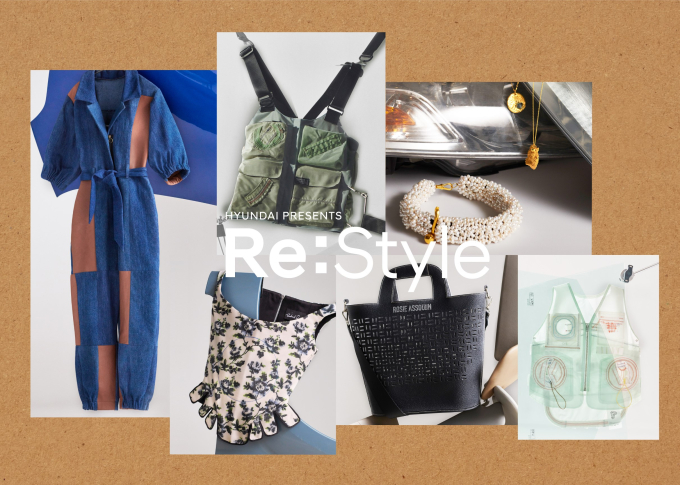 On October 13, Hyundai Motor Co. lick started the sales of their fashion products at London's Selfridges pop-up store and Selfridges online store. The event was also aligned with Project Earth, a symbolically sustainable campaign operated by Selfridges.
The automobile company on October 8 first displayed fashion items made from the automotive manufacturing and scrapping process. This is the company's creative approach to sustainable fashion.
The fashion collection unveiled under the name Re:Style 2020 includes jewellery, jumpsuits, working vests, bags, and various other clothing items. They were created in partnership with trendy fashion brands and leading design schools: Alighieri, E.L.V. DENIM, Public School, pushBUTTON, Richard Quinn and Rosie Assoulin.
"Re:Style 2020 stems from the recognition that although most materials, such as iron and nonferrous metals, are currently recycled as part of the vehicle scrapping process, there are still some materials such as leather, glass and airbags that end up in landfill," Hyundai said in a statement.
The carmaker collected various leftover materials with the help of various partners, for the project, and sent them to the collaborating designers.
"At Hyundai Motor, we understand that ethical consumption and caring for the environment are increasingly important considerations of our customers in the post COVID-19 world," said Wonhong Cho, Hyundai Motor's global chief marketing officer, in a statement.
The company revealed the collection digitally on Hyundai's, Selfridges and participating brands' social media channels. The sales are set to raise funds for the British Fashion Council's Institute of Positive Fashion.
Hyundai aims to become the world's third-largest automaker of eco-friendly vehicles by 2025, offering an innovative new lineup of battery-operated electric vehicles and fuel-cell electric vehicles.
Hermès Launches Its First Digital Store in Saudi Arabia

On October 15, Hermès announced the launch of its first flagship digital store in Saudi Arabia and the United Arab Emirates.
The new hermes.com website will provide its clients with a mixture of online shopping experiences and content, as it draws on the same aspects shoppers encounter when perusing in a brick-and-mortar store: ambience, window displays, products, services and narratives.
For more information visit, hermes.com.